Hillarys
This beautiful exterior was our most challenging project ever, the home is a stones throw from the beach this meant our design and specification had to cater for conditions that strip paint from the front of the home!
Previously a large lawn area dominated the backyard and elevated neighbours looked straight into the pool area while strong SW winds made the lawn area uninviting. A large games room at the rear of the home was also unused and formed part of our design brief the owners wanted to revitalise the outdoor and indoor areas and connect the two spaces so they could become the new heart of the home.
Our response was a large Victorian ash timber structure to balance the bulk of the two storey home. The timber beams join a large parapet wall on the South boundary that shields the area from wind while providing a backdrop for stone tablets that the clients sourced for the project.
Louvred rooves offer the flexibility to control light entering the main dining area as well as winter sun into the new theatre room. A fully appointed outdoor kitchen made entirely from 316 stainless steel is complimented by a custom designed breakfast bar, travertine paving throughout provides a luxurious base balanced by the soft tones of Teak decking.
The outdoor gas fire bowl takes the chill from the air, this plinth surrounded by water and the teak lounge seating is the perfect place to retire after dinner with a drink.
Interior design by Jodi Mouritz includes a custom wall unit housing audio visual components including Marantz audio, surround sound, blueray and DVD player. A motorised 107″ projector screen housed in the new acoustic ceiling along with automated block out blinds provide a true movie experience. All furniture, floors, blinds and kitchenette were designed and installed by RED.
The AV system also extends to the outdoor TV and speakers so the same entertainment can be enjoyed outdoors.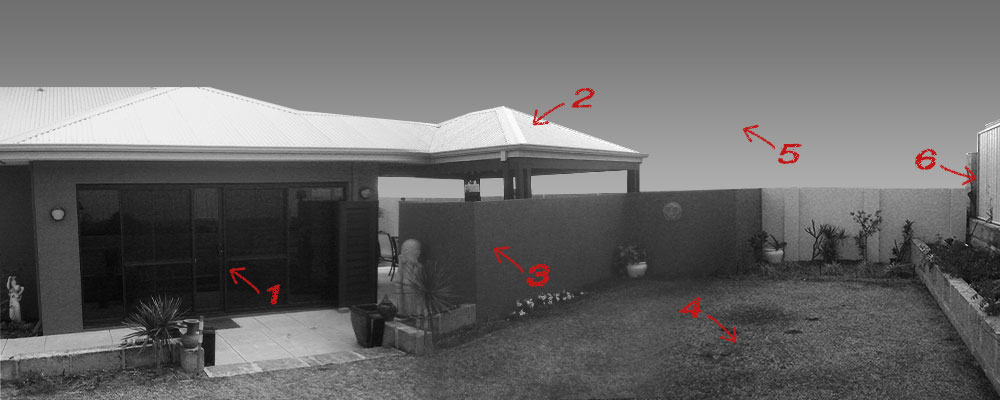 Existing sliding doors limited the opening and connection of the games room to the outdoors
Alfresco area built into the house shaded the northern side of the games room making it dark in winter also limited seating being so small.
A brick wall dividing the lawn from the alfresco cut off the entire area it had become a waste of space.
Lawn meant too much maintenance and for no reward exposed to the SW wind it is a very uncomfortable place to occupy.
Future home proposed on vacant land next door design must take privacy and overlooking into account whilst also allowing the northern sun to enter the new landscape.
Rear neighbours are elevated and look straight into the pool space from second storey balcony design must provide some barrier to this without blocking their view of the ocean, solution must be kept relatively low.